Surfside Beach, South Carolina
Diane & Rich DuLoft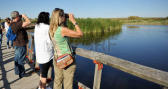 We're passionate about birds and nature. That's why we opened a Wild Birds Unlimited Nature Shop in our community.
Surfside Beach, South Carolina
8703 US Hwy 17 Bypass,
Suite E
Surfside Beach, SC 29575
Phone: (843) 748-0989
Fax: (843) 748-0578
Email: Send Message
Store Hours:
Mon - Fri: 10:00 am - 6:00 pm
Sat: 10:00 am - 5:00 pm
Sun: 1:00 pm - 5:00 pm


GIVE YOUR SQUIRRELS A FREE RIDE!
With the Droll Yankee Flipper you can solve the problem of squirrels eating all your Bird Seed, plus watch this amazing feeder give your squirrels the ride of their life. This feeder is perfectly harmless to your squirrels, but gives the best protection for your quality seed. Birds are able to perch on it without any problem.
So contact our store for availability of this great feeder!Wild Birds Unlimited
8703 US Highway 17 Bypass South
Suite E
Surfside Beach, SC 29575
Phone: (843)748-0989